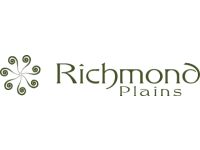 Richmond Plains
Nelson, New Zealand
New Zealand, Nelson
The Koru or unfolding Fern Frond logo on our label in new Zealand Maori mythology symbolizes a new beginning, unfolding life, and growth. Just as each season brings new life to the vineyards and new wines to make, the flavours of previous wines are gently developing as they mature.
Richmond Plains is an organic winemaking pioneer producing New Zealand's first Certified Organic Sauvignon Blanc and Pinot Noir.
Located next to Nelson on the South Island of New Zealand, it is a family-owned winery. Sam and Samantha Jensen, have a deep conviction that purity in farming is translated into the final purity of the wine.
They believe that: "Great wines are made in the vineyard. We believe in working with nature to nourish active soils and vines so they produce delicious tasting grapes and wines"
They developed a process whereby they feed the soil and vines with biological brews and compost teas. The vineyard is a natural carbon sink as they mulch vine prunings, grasses, herbs, leaves, and grapes mark back into the soil. This increases the soil depth and organic matter which is rich in natural fertility and beneficial organisms.
Sam and Samantha's winemaking philosophy is based on minimal intervention allowing the wines unique, individual characters to develop and shine through. The result is vibrant fruit-driven white wines and elegant red wines of great character that are well balanced, reflecting the terroir and harmony of the vineyards
We enjoyed the wines of Richmond Plains tremendously while screeing it for our portfolio. Balanced, intensity, and solid winemeking are fair characteristics of these fine wines. These wines are great food wines.
Contact
Richmond Plains
108 McShane Road Richmond, Nelson
We stock from this winery: